We're looking forward to meeting you.

What to Expect When You Plan Your Visit

When you come to Highfield, you can expect to be welcomed into a friendly, positive environment by people who are genuinely excited to see you. You will find some quick information below to help you learn a little about us. We would also love to get to know you! Let us know you are planning a visit by completing the form on this page so that we can welcome you and have a small gift ready for you at our Connection Desk.
If you have any questions, comments or concerns please do not hesitate to contact us.
Weekend Service Time & Location
WEEKEND SERVICE TIME
Sunday at 10:30 AM
(Sunday Small Groups, Sept. – May, 9:15 AM)
HIGHFIELD BAPTIST CHURCH
290 St. George Street, Moncton, NB, E1C 1W5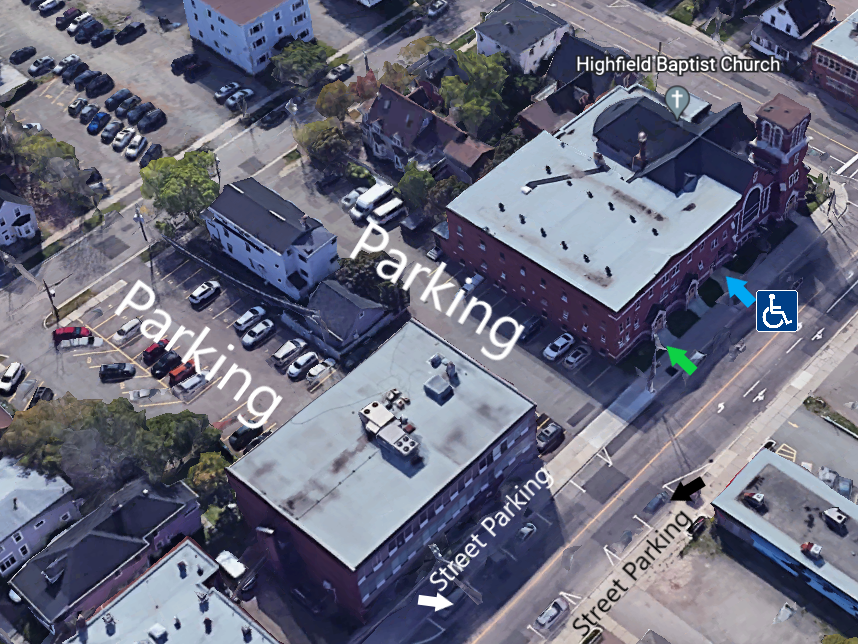 If you are a first or second time guest we invite you to use the guest parking spots near the door with the green arrow.  
Our church parking lot is right next to our building and can be accessed from either St. George Street or Fleet Street.  On Sundays we also have permission to use the larger parking lot behind the office building next door.  In addition, street parking is also available on St. George Street.
The door marked with a green arrow in the photo, is our main entrance.  The accessible entrance is shown with a blue arrow and there is a lift inside this entrance that can help you avoid any stairs.
Sundays will quickly become your family's favorite day of the week. Our age-specific lessons will ensure that your child has fun as they learn about Jesus. The Highfield team is committed to providing an environment that is safe, clean, and fun for your children while you enjoy the service.
To help put your mind at ease, we want you to know our volunteers undergo criminal & vulnerable sector record checks with the RCMP every five years. A spacious & caring nursery is available for infants and toddlers. Older children are invited to join you for the first part of the service and then they are able to leave to participate in an age-appropriate program just for them!